Would you care to dance?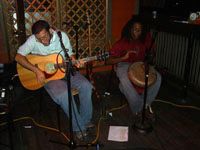 Sounds like a pretty reasonable question. And, for most people the answer is simple. Either yes...if you'd like to or No thank you...if you don't. So why is it for me that question seems fraught with peril? First of all let me put this out there.
Reason #8 for losing weight: having the confidence to say yes when an atractive woman asks me to dance and not having to have a inner dialoug with myself about her motivations.
So it goes like this. I was out watching my friends Justin and Brian play music at a nice little outside venue in a small college town near home. I was singing along with the music and a young woman in front of me leaned toward me and remarked about my knowing all the words and then asked me why I wasn't dancing. I smiled and politely told her that I just don't dance. She said, "c'mon lets dance...that's half the fun." I declined, smiling sheepishly, sinking back into my chair. She persisted and I resisted and eventually she gave up.
Now, it's not that I didn't want to dance with her, quite the contrary. I may be fat but I'm still a guy. The fact is that several things go through my head in situations like this. First is drawing any undue attention to myself in public. Of course that's funny because I often like being the center of attention. Take this blog for instance. Well maybe this is more of an exercise in socialization than a ploy for attention.
Second...how should I put this? Well, we all know about inertia. Newton's laws tell us that "An object at rest tends to stay at rest and an object in motion tends to stay in motion with the same speed and in the same direction unless acted upon by an unbalanced force." Meaning, when I start dancing sometimes i'll get going one direction but some of me is still going the other direction and it makes it very hard to keep rhythm.
I guess part of it is that I tend to hide behind my weight in uncomfortable social situations. In the interest of being as open as I can be I'll admit that i haven't had very many physically intimate relationships with women because of my discomfort with my weight and the ones i have had, while memorable, were short lived. I've also let a few amazing women slip through my fingers because I sat on my feelings so long that opportunity passed me by.
I'm not the first to go through this and I'm sure not the last. I don't even expect that losing weight will magically fix the issues I have with self esteem. What it will do is remove the primary excuse I have used to let my life continue to pass me by.
Now the question is...do I push the publish button and cement the idea that I may be brutally honest from time to time or do I scrap this post and go back to my comfort zone?
Ahhh....what the hell...