Tuffy's tattooed belly!
As planned I headed out to the tattoo festival today. I hate to say I was not too impressed. I think maybe we got there too early because half of the booths were empty. My friend Sandy, who came with me, and I milled about for a little while looking at the different portfolios and perusing the assorted plastic skull trinkets. Some of the tattoo books were pretty good but only 1 really stood out. We came upon a small corner booth where a crowd had begun to gather. Seeing as nothing else was going on we decided to follow the trend and crane a neck to catch a glimpse of tattoo artist
Robert Hernandez
at work. For those of you not familliar with Mr. Hernandez's work I implore you to check out his web site. His work expresses a realism and 3 dimensional quality that I, personally, have never seen in a tattoo. I can't even believe it having seen it with my own eyes. Now, his images are a little bizarre for my personal tastes but given the right subject material I would be proud to sport one of his tattoos and would even travel to his business in Spain to have it done.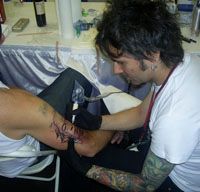 Sorry to say that and getting my picture with "Tuffy" (below) a guy who makes me feel small (and that's no small task) were the only real highlights of the festival...well that and getting to spend the day with my very close old friend Sandy of course!
We didn't hang around too much after that and who knows things may have picked up but we decided to call it a day.
Me and "Tuffy" and Buddha!
Sandy rubbing the Buddha!