The Tale of the Scale!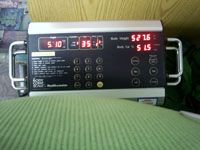 Ok so here's the low down, "the skinny". If I may be so bold.
I strolled into the Kaiser Hospital health education department like a fat man looking for a scale. Found one. Stepped on and a few blips and flashes later I had my results and my starting mark. So, without further ado I'll just run down the numbers:
Height: 5 foot 10 inches
Current Body Weight: 527.6 Lbs (clothed)
239.3 Kg
Total Body Fat: 51.5 %
269.4 Lbs
122.2 Kg
My initial goal is to lose 250 Lbs leaving me at 277 Lbs. This will probably not be my Ideal weight but it is my initial goal. My final loss may be more like 300 Lbs total but we'll get there when we get there.
Well, that's it for now. I can't wait to get going on this. It's killing me that it's been held up but I'm just not willing to go in there and try to work out without some instruction first. It may seem like I'm avoiding it but I just don't think it's safe.
I guess that's it for today...
Seacrest out...