How many people have a Theme song?
Show of hands?? No one? Only me?? Hot Dang!!
I mentioned in my post a couple of days ago that I had been asked if I would consider doing a weekly podcast but I hadn't made up my mind. Well, over the weekend a couple of friends, Justin Farren, whom I've mentioned and Brian Rogers, got together and recorded a theme song that Justin wrote for me! Swweeeeeet! I got me a Theme Song! Now I almost have to do a podcast!
Justin singing some harmony!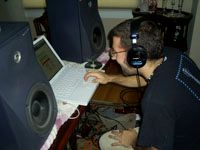 Justin checkin' the EQ...errrr sumpthin'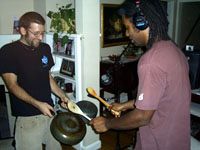 Brian and Justin addin' a little country funk with some ole pots and pans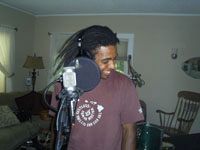 Brian throwin' some of that sweet voice on the mic!
I must say. I have some wicked talented and generous friends and I would not have the strength to take something like this on without them and all of you! Everyone reading this should know that I thank and appreciate each and every one of you!
Now...about that song. I have a copy but it's not the completely mixed version so I'll promise I'll post it for you to hear as soon as it's complete. Hopefully within a couple of days. I think it's the funniest thing ever and I know that you're all going to get a huge kick out of it. Damn I can't wait to share!