Diabetes
For those of you who have been following my blog you know that part of my time here is devoted to raising money for Diabetes research. When I first decided to go public with my weight loss story I wanted to do something else that would benefit others as well. Having had some experience raising funds for other non-profit intrests with which I'm involved I figured that using this forum to benefit diabetes research was as important as anything else I could do here.
My goals for this blog then became to chronicle my journey and methods as I attempt to lose 250 Lbs, or roughly half my bodyweight, and to attempt to raise $50,000 (US) to fund Diabetes research.
Since starting this blog a little more than a month ago I am happy to report that while I am having difficulty accurately measuring my exact weight I am exercising regularly and have dramatically changed my eating habits for the better. I feel better, my cloths fit better and I am very optimistic about what the future has to bring. And, as soon as I loose a bit more weight and find a trustworthy scale I will resume updating my weight loss progress. This being a long process I hope everyone will bare with me until I can get the technical issues worked out.
On the fund raising front I haven't really gone all out yet with the promotion of that part of my mission but from the few mentions i have made and through the amazing generosity of the find folks I endearingly call "My Watchers" we have been able to raise a grand total of
$381.11
with the last donation being a fantastic
$100 from Chris B.
! Thank you Chris for your incredible gift!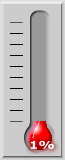 Goal: $50,000 (US)
Achieved: $381.11
With this post I want to take the opportunity to, not only, thank those who have already donated and encourage those of you who,
are able
, to consider donating a couple of dollars or even $1 if possible. I know it's been said a million time before with regard to fund raising but it's so true. If we were able to collect 1 dollar from $50,000 people we would reach our goal within a matter of days. I wonder if we could try something like that. Im putting out a challenge to everyone reading. I'm asking everyone to find $1 that they can donate and if you feel up to it ask 5 friends if they will donate $1 and let's see how much we can raise during the month of July.
Oh yeah something I forgot to mention. I'm not exempt from this and I wouldn't ask you to do anything that I'm not willing to do myself. I have pledged to donate $100 of my own money each month that it takes me to lose 250 LBS. I Just made my first $100 donation Today for the month of June 2006.
I'm also looking for business or individuals who would be generous enough to do a matching donation. I'm willing to post your company's logo or your picture in a prominant place on my site for the duration of your matching period plus you getto be part of something special that a lot of people will get to see on a daily basis. What I'm asking is for a pledge to match incoming donations for a day, week or month of your choosing! What do you say? Are you game? Oh and it is tax deductable for those of you looking to maximize your giving dollar!
In a future post I will go over my own personal experiences with Diabetes but for now if you want to learn more about where your money is going I urge you to go to
The American Diabetes Association
for more information and then if you feel compelled please make your donations
HERE: Diabetes Donations
Thanks everyone!
P.S. the donations page takes Credit Cards and goes directly to the ADA but if you would like to donate and you wish to make an alternate type of payment such as Paypal or by mailing a check Please email me at ukefoo@earthlink.net and I'll tell you how to do that. I will then make the payment to the account on your behalf and make sure that you get credit for the amount donated by name!