I'd Like you to meet Bob...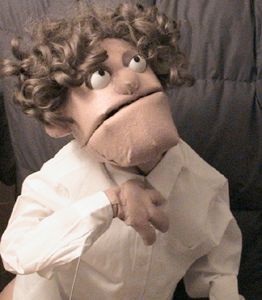 I really couldn't think of anything on topic for today so i thought I'd share one of my hobbies with you. This handsom devil to the right of the post is Bob. Bob is the product of my boredom. I often dabble in different things when I get bored. One day I came across a website that had information on puppet making and thought it looked interesting. I ordered a book called "The Foam Book" which is all about making puppets from laytex foam.
The moment I received the book it was off to the fabric shop for materials. Did you know that that there are like 15 different type of spray on Glue and that not all of them will adhere foam to foam? Well now you do!
I worked on him for about 3 weeks or so. I shaped his head and torso, I gave him hands lined with wire so he can hold objects. I even found him a wig in a thrift store. Bob had just about everything he needed but a purpose.
Well...Bob sat on my vacuume cleaner handle for a couple of weeks while I tried to figure out what I was going to do with him. As opportunity would have it my team manager at work would supply the perfect purpose for Bob's unlikely existance. As it turned out our team at work was in need of a project highlighting "Work Place Safety" or as our company calls it "Systems of Safety"! I seized my opportunity during the next team meating and pitched my Idea for a Video Starring none other than Bob. "Mild mannered call center associate by day but when co-workers suffered the ill effects of poor ergonomics he transforms into 'Systom's of Safety Guy'!"
Needless to say the idea went over swimmingly! I was put incharge of writing a script and two talented women on our team set about sewing a costume for Bob. And of course my friends and I came to the rescue with his Theme song! Which, I wrote and sang..thank you very much! the lyrics went something like this...
He's an average guy like you and me
Taking calls at the Kaiser AACC (the name of the place where I work)
But When bad ergo makes his co-workers cry
He becomes Systems of Safety Guy!
(break down)
Chair too high?
Ouch my back!
Wrists feel tight?
Carpal Tunnel Jack!
What you gonna do when you're neck's out of whack?
Call Systems of Safety Guy!
That's right...call Systems of Safety Guy!
(replys sung by female back up singer)

Everything was in place...the puppet was done. The script was funny. The premise was that bob would stroll into the call center to start his day's work and regular people would greet him as he walked down the hall way to his desk. (keep in mind that Bob was the only puppet but no one seemed to notice.) Bob would get to his desk and log on to start taking calls when all of a sudden he hears a cry of pain from a cubicle in the distance. Unable to resist this cry for help Bob spins around in his perfectly adjusted ergonomic chair and when the chair stops spinning Bob pops out in full costume as Systems of Safety Guy! He runs down the hall passing co-workers who insist on still greeting him as Bob even though he is in full costume (you see the problem is that Bob is not really a super hero...he's more like the hall moniter back in grade school that everyone picked on...he just happens to wear a costume and insist that people call him Systems of Safety Guy. People love to tease him by calling him Bob anyway and he always reacts with frustrated professionalism. He politely corrects them and heads off to complete his task)
When Bob reaches his injured co-worker he finds that due to poorly arranged ergonomic equipment on her desk ie: wrong keyboard, mouse too far from keyboard, desk too high etc. she has wrist pain. Anyway..to make a long story long...in a series of funny clips including a game show motif he shows her the proper way to set up her ergo equipment so that she will be comfortable and protect her wrists...yadda yadda yadda. Then we end with one of those public service announcement type endings where the main characters sit facing the camera and tell you if you'd like to learn more about ergonomic equipment see your manager blah blah blah...
We were all set to film that bad boy! Ahhhhhh......then my manager got transfered and the project got scrapped and someone made some posters or something instead...
-The End-